There are many reasons I take pride in calling Birmingham, Alabama my home: the people, the city, the southern vibe, but mainly… the FOOD.
I recently had the opportunity to enjoy a six course wine dinner alongside Greg Doody, Vineyard Brand's president and CEO, at one of Birmingham's greatest gems: OvenBird. If you've never dined at OvenBird… I feel sorry for you. So deeply, terribly sorry. Dramatic? Maybe. Truthful? Absolutely.
Anyone involved with or interested in the Alabama food scene will tell you that Chef Chris Hastings is a local (and national) food legend. I mean, the guy took down Bobby Flay on Iron Chef...
#Winning… Literally.
Chris is owner of Hot & Hot Fish Club in Birmingham, and now OvenBird at Pepper Place. The food, atmosphere and service all exceeded my expectations. Paired with each delectable dish was an elegant wine from Tablas Creek Vineyard, and judging by the reactions, comments and empty glasses around me, it was obvious Tablas Creek did not disappoint one bit.
The first dish was a beef empanada paired with a crisp and refreshing 2015 Patelin de Tablas Rosé. The rosé offered a rich texture with vibrant flavors. After the thirty seconds it took me to consume this dish, my first thought was, "If this is a foreshadowing of how the rest of the night will go, I don't want to leave. Can I sleep here?" Unfortunately they close at 11. So no, you can't.
The second dish was a strawberry and beet salad with goat cheese and benne seed crumble.
UMMM, can I eat this everyday for the rest of my life!?
It was such an interesting flavor combination, yet it worked incredibly well. We're talkin' please look away so I can lick the bowl... that kinda incredible.
Paired alongside this dish was the 2014 Patelin de Tablas Blanc. This was also probably my favorite wine of the night.
I'm not a huge white wine girl. (shocking, right?) I grew up with a dad who drank/drinks cabernet sauvignon religiously; therefore, you will most likely find me with red wine stained lips. BUT YALL. This wine was dangerously good.
The Patelin de Tablas Blanc was lush and supple with exotic flavors in the tradition of a rhone white. I definitely made a mental note to remember this wine.
The third course included charred asparagus, pickled onion, brown butter, almond, and cured duck egg. I didn't read the description until it had already disappeared from my plate (whoops), but I found it to be the most beautiful presentation of the night and perfect for spring.
To match the asparagus, Tablas Creek Vineyard paired their 2013 Espirit de Tablas Blanc. Asparagus is very difficult to pair with, but the Esprit de Tablas Blanc worked surprisingly well due to its freshness and vitality . It offered a rich, complex texture that needs time to reveal its true essence.
Course four – bring on the reds. The first red wine of the night, 2013 Patelin de Tablas, was brought out alongside grilled octopus and potatoes. This red wine girl could not have been more pleased. The wine was fresh and lively with a real focus on the fruit.
"Excuse me, sir, can you repeat dishes? Can I have this whole combo again instead of dessert? No? Ok…" – The conversation that went down in my head.
Dish number five included boudin rouge, arugula, crawfish and a creamy sauce. This was the most hearty dish of the night and was paired with the 2013 Espirit de Tablas Rouge.
..JK that was Robert Parker. Did I fool you?
In all seriousness, the wine was deep and meaty in the true tradition of beaucastel. I couldn't choose a favorite red between the two, so naturally I decided I'd just take a bottle of both. Why do you do this to me Tablas Creek Vineyard, WHYY!?
Saving the best for last: 2014 Vin de Paille Sacrerouge, beignets, Mahon Cheese with orange marmalade and Pana Cotta with berries. This wine is a wonderful alternative to a ruby port -- being lush and expansive with a distinct spiciness.
The fact that Darren Delmore, Tablas Creek Vineyard's national sales manager, brought out a special wine just for the event showed his true passion and care for his consumers. Both Tablas Creek Vineyard and OvenBird ended on a strong note with this final pairing.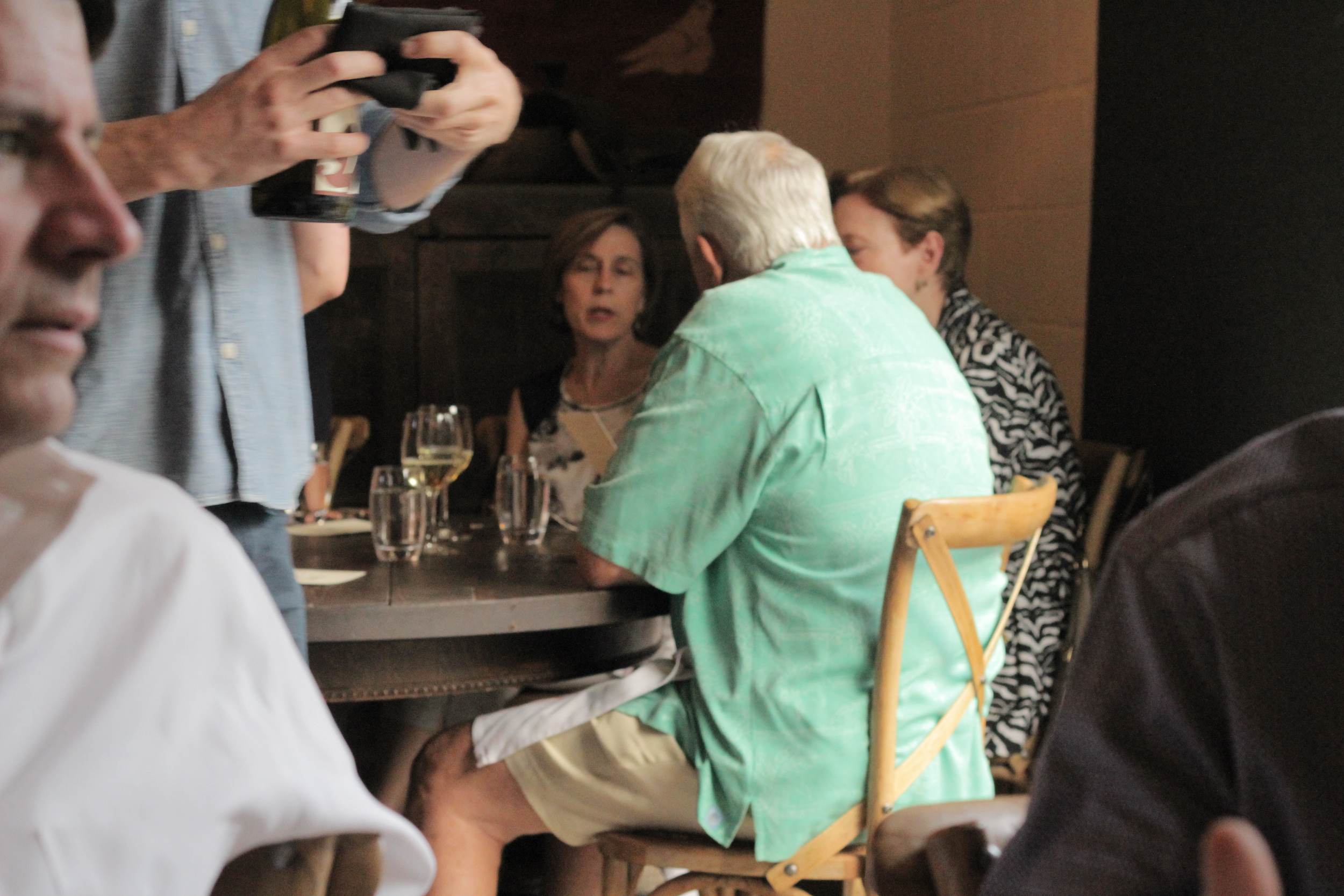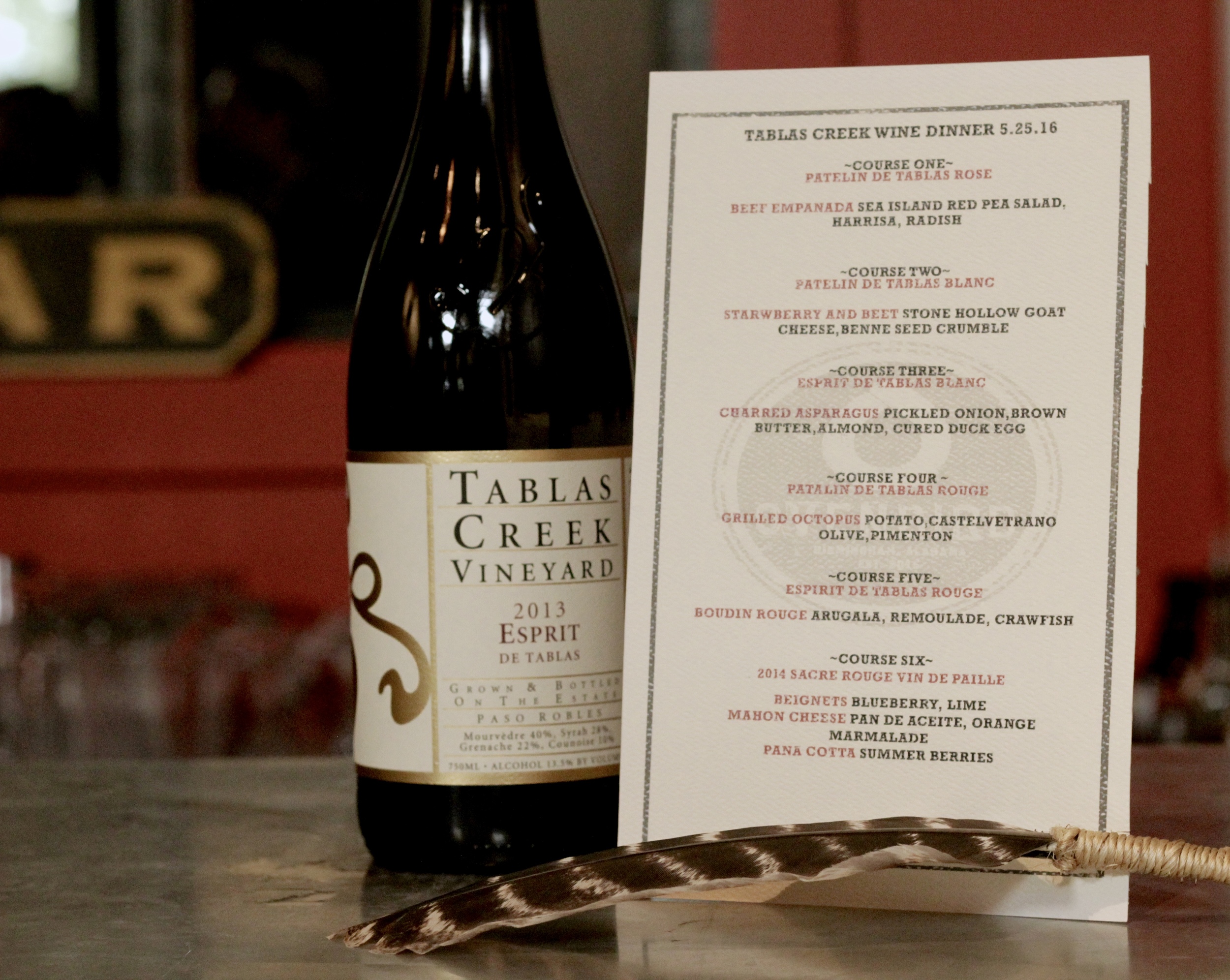 Soooo who wants to go back with me!?